West Central Long Island
Settlements:
O'Neils, Simms, Doctors Creek, Bains, Wemyss, Sam McKennons, Millers, McKanns
Note:
A topic with no bullets following indicates that there is nothing of this type available or that if it does exist no information is available. Email the
Guide.
if you have any related information. Check nearby locations for the services you seek.

Updated: 3 April 2017
Explorer Chart:
LI-1; LI-4


Airstrip

Stella Maris Airport; 23° 35'N - 75° 16'W
Air Service
Anchorage
Area Information / Tourism
Art Gallery / Art
Bakery

Murleen's Bread. McKanns.
Bank & ATM
Beverage Store
Bike Rental
Boat Rental
/ Charter

Book Exchange
BTC / Batelco Office

242-338-8041; Fax: 242-338-8044. ONeils.

242-338-8000; Fax: 242-338-8012. Simms.
Calendar

Car Rental

Adderley;s Automobile Renting & Leasing; 242-338-8989. Millers.

Stan's Car Rental; 242-338-8987; 142-357-1270 cell. Stanley Pinder. Millers.

Swift Car Rental; 243-338-8533. Doctors Creek.
Cell Phone Service
Church
Anglican.

Baptist.

Church of God.

Gospel Chapel.

Union Baptist.
Coffee Shop
Cruisers Net
Customs & Immigration

Dinghy Landing
Government basin at Simms.

Many sheltered beaches.
Ecology.

Emergency
Ferry
Fishing
Fresh Fish
Fuel
Jameson Service Station; 242-338-8359. Gas only. Simms.
Golf Cart / Scooter Rental
Government / Administrator

242-338-8517. Simms.

Long Island Tourist Office; 242-338-8668. Deals.
Groceries & Produce
Bunches Food Store; 242-338-8600. Bunches.

CM's Total Mart. Simms.

Doctor's Creek Mini Mart; 242-338-8776. Doctors Creek.

Hilda's Convenience Store. Sam McKennons.

Long Island Cooperative. Simms.

L&H Supermarket; 242-338-8900. Millers.

MGS Food Store; 242-338-8255. Simms.

Mini Mart. Doctors Creek.

Murleen's Bread. McKanns.

O&S Sodas & Beer. Simms.

Rose Have Food Fair & Flea Market. Bains.
Stanley Pinder; 242-338-8987; 142-357-1270 cell. Millers. Fresh vegetables.
S&R Fruit & Vegetable Market. Millers.
Hardware & Lumber

Adderley's Plumbing & Electrical Supply; 242-338-8925. Millers.

Alex's Building Supplies; 242-338-8989. Millers.

Forsythes Lumber & Hardware; 242-338-8775. Simms.

Roberts Hardware Plumbing & Electrical Supplies; 242-338-8438. Whymms.
Ice
Ice Cream
Internet & WiFi
Laundry
Library
Lodging
K.B. Resort. McKanns.

Rico's Inn; 242-338-8989. Millers.
Mailboat
Marina & Dockage

Alligator Bay Marina

; 242-338-8067; VHF Ch-16; conchman@direcwaycom. Located at Bains; 23.17N 75.14W; 25.5 nm SE of Georgetown. 42 slips; 13' at low tide; restaurant; lounge; gourmet shop. Nearby bank.
Marine Supplies & Parts

"Blue Chip"; VHF Ch-16. Electronics.
Marine Services & Repairs

Medical / Clinic / Pharmacy

Government clinic; 242-338-8488. Doctor and nurse on staff. Simms.

Moorings

Navigation

Packages & Shipping

DHL; Nekia Shearer; 242-357-1414. Nancy Knowles; 242-337-1555.
Lightspeed Shipping

;

242-323-7767; 242-

810-5976

;

info@lightspeedship.com

. Contact: Nathalia Gibbs. A new operation serving Nassau, Eleuthera, and Long Island. Items sent to their shipping point in Pompano Beach FL will be transported by air to the local airport on the island. They will provide package tracking information and handle Customs. They will also provide personal shopping services from vendors in the Pompano Beach area. Use their website to set up an account to ship your package.

Personal Services
Nel's Unisex Beauty Salon. Sam McKennons.
Police

242-338-8555 / 8191. Simms.
Post Office / Mail

Propane
Resort
Chez Pierre Bahamas; 242-338-8809. A French restaurant and bar on a beautiful Bahamian beach. Offers 4 beachfront cottages.
Ecoresorts International; 242-338-8945; seamckanns@hotmail.com. McKanns.

K.B. Resort. McKanns.
Restaurant & Bar
Anca's Away. Bains.

Blue Chip Restaurant & Bar; 242-338-8045. Simms.
Chez Pierre Bahamas

; 242-338-8809. A French restaurant on a beautiful Bahamian beach. Chef Pierre presents a menu with variety and style featuring French, Italian, Continental & Caribbean dishes from fresh ingredients. A well-stocked mix-your-own bar adds to the enjoyment of the beachfront ambiance. Perhaps the best food you'll find in the Bahamas - don't miss the opportunity. Located on Millers Bay about 3 nm N of Salt Pond; 23º 24.1' N; 75º 11.2' W; N of the power plant. It is possible to anchor offshore and dinghy in.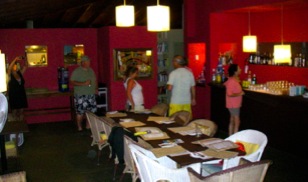 Club Washington Restaurant & Bar; 242-338-0021. McKanns.

Crossroad Restaurant & Bar; 242-338-8052. Oneil's.

Deal's Beach Bar. Simms.

Dot's Takeaway. McKanns.

Jeraldine's Jerk Pit. Bains.

K.B. Resort. McKanns.

Rico's Inn 242-338-8989. Millers.

Vindell's Takeaway. Sam McKennons.
Retail Therapy - Shopping

Alecia Knowles straw work. Simms.

C&M Totalmart & Strawork. Simms.

Charlene's Family Fashions. Sam McKennons.

DNA Gift Shop; 242-338-8798. Simms.

Elsie's Quality & Authentic Crafts; 242-338-8881. Oneil's.

Oralees Fashions. Doctors Creek.

Quality Straw Factory. Simms.

Shoes City. Simms.
Showers

Snorkeling & Scuba Diving

Taxi
Contact taxis on VHF Ch-16.
Things to See & Do
Deans Blue Hole. World's deepest blue hole at Turtle Bay N of Clarence Town.
Tides
Trash

Trash bins are available in settlements.
Veterinarian

VHF Protocol
Water
RO water may be purchased in 5-gal jugs in stores.
Weather
Marine Weather Center

; Daily SSB, webcast, & email forecasts by Chris Parker. Note: Best reception in this area is usually on 4045 KHz USB Simplex at 0630 AST.
Bahamas Met Office

website provides weather forecast for local areas throughout the Bahamas.
Topics: 19 Jan 12