Fowl Cay, Exumas

Fowl Cay is a small private cay NW of Staniel Cay that is home of the Fowl Cay Resort offering a hilltop restaurant and rental houses. See Staniel Cay Map.


Explorer Chart: EX-18, EX-19
Airstrip
Air Service

Air service is available at nearby Staniel Cay with launch service to Fowl Cay.
Anchorage

There is a large anchorage nearby at Big Majors Spot.
Area Information / Tourism

Bahamas Area Websites

. Sites that can be searched for tourist and business information throughout the Bahamas.

Fowl Cay was originally a private retreat of a family. The original owners' villa was joined by villas for their children. When family use of the retreat fell off, the owners began development of the Fowl Cay Resort. A few years ago, Sandals bought the resort and is now operating it as part of its family of all-inclusive deluxe resorts.
Exumas Visitors Guide

. An free guide booklet available at many local businesses. It provides a good directory of services and attractions throughout the Exumas.
Art Gallery / Art

Bakery
Bank & ATM
Beverage Store
Bike Rental
Boat Rental / Charter

Each of the 6 villas includes use of an outboard runabout for exploring the surrounding cays.

Kayaks and small sailboats are available for use of guests.
Book Exchange
BTC / Batelco Office
Car Rental
Cell Phone Service

Good cell phone service is available from the BTC tower at Staniel Cay.
Church
Coffee Shop
Cruisers Net

Customs & Immigration
Dinghy Landing

There is a dinghy landing at Fowl Cay Resort dock for dinner patrons.
Ecology.

Emergency
Fishing

Fowl Cay Resort can arrange for deep sea fishing expeditions with local guides.
Ferry

Island Shuttle; 242-524-4400 / 8191; "island Shuttle VHF Ch-16; info@stanielcayshuttle.com. Serves Staniel, Big Major, Fowl, Sampson's Cays; cruises, excursions; enclosed boat seats 16.
Fresh Fish
Fuel
Golf Cart / Scooter Rental
Government / Administrator
Groceries & Produce
Hardware & Lumber
Ice

Each villa includes use of a golf cart.
Ice Cream
Internet & WiFi

Fowl Cay has an extensive private WiFi system.
Laundry
Library
Lodging
Fowl Cay Resort

; 242-355-2046; info@fowlcay.com. The resort has 6 separate villa residences, each with its own unique design and character of laid-back, private island luxury.

Villas: Birdcage House; Bljemoon House; Lindon House; Sweetwater House; Starlight Villa, Seabreeze Villa.

Villas include fully stocked kitchens.
Mailboat

MV Lady Francis and MV Captain C provide service.

Additional service is through Staniel Cay.
Marina & Dockage
Marine Supplies & Parts
Marine Services & Repairs
Medical / Clinic / Pharmacy
Moorings
Navigation
Packages & Shipping
Personal Servies
Police
Post Office/ Mail

Mail service through Staniel Cay.
Propane
Resort
Fowl Cay Resor

t; 242-355-2046; info@fowlcay.com; reservations@fowlcay.com; VHF Ch-16. The resort is part of the Sandals family of all-inclusive luxury resorts. Its location provides all the benefits of a quiet private island while being close to two of the nicest settlements in the Bahamas for easy access.

The Fowl Cay restaurant has received 5-star accolades.
Restaurant & Bar

Fowl Cay Resor

t; 242-355-2046; info@fowlcay.com. A hilltop dining room with elegant casual dining and Bahamian and Continental cuisine. Game filled Pub overlooking Big Major anchorage. Reservations required, no credit cards.

The Hill House Restaurant dining room is open to cruisers for dinner unless the resort is full to capacity with guests. The chef prepares the menu for the day by 0800. The resort can be contacted via phone or VHF Ch-16 to get menu details and make reservations. Reservations must be made by 1200.

Dining at the resort is an elegant and tasty experience. The all-inclusive prix-fixe dinner starts with cocktails at 1830 in the beautiful bar; followed by a dinner including starter, main course (usually fish or a meat options are offered, and desert. Wine is included.

The Fowl Cay restaurant has received 5-star accolades.
Retail Therapy - Shopping

Fowl Cay Resort gift shop near the resort office and pier.
Showers
Snorkeling & Scuba Diving

There are many good snorkeling areas around the resort and on surrounding cays.

Explore Thunderball Grotto at nearby Staniel Cay.

Staniel Cay Divers is nearby and conducts a variety of diving expeditions and classes. See Staniel Cay.
Taxi
Things to See & Do

Private beaches. South Beach is large and beautifully manicured.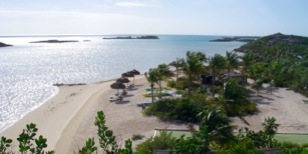 North Beach provides a nice option.
Bocce court

Kayaking

Sailing

Pool
Tennis court

Expeditions to Exuma Cays Land & Sea Park.

Walking trails.

Visits to the local settlements of Staniel Cay and Black Point.
Tides
Trash
Veterinarian
VHF Protocol

Fowl Cay monitors VHF Ch-16
Standard Bahamas VHF Protocol: Ch-16 is for marine emergencies, safety, and hailing. It is also used by local Bahamian shore facilities for hailing. Communication traffic must be shifted to another channel.
Water
Weather

Highborne Cay Marina broadcasts weather daily at 0730 on VHF Ch 06.

Marine Weather Center

; Daily SSB, webcast, & email forecasts by Chris Parker. Note: Best reception in this area is usually on 4045 KHz USB Simplex at 0630 AST.

Bahamas Met Office

website provides weather forecast for local areas throughout the Bahamas.

"Blue Yonder" (C6AGJ) based on MV Emerald at Staniel Cay broadcasts a weather summery from multiple sources at 0800 on VHF Ch-12. The service is provided during the period of late November to May.
Updated: 31 Jan 13

Topics: 19 Jan 12